Parma Heights, Ohio (February 22, 2018) The Quarter Mile Foundation is pleased to announce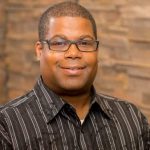 Anthony Kirlew as an addition to the Board of Directors. Mr. Kirlew previously served the organization in an advisory capacity and replaces Steve Cole who recently resigned from the Board.
Kirlew is a second-generation "car guy" who started his career in the automotive industry in 1987 and soon after caught the drag racing bug. As the founder of Infinion Marketing, he brings a background of nearly 20 years in marketing and public relations to the Foundation. He will work to help the foundation in their marketing and fundraising efforts to launch Project 1320, a documentary featuring numerous motorsports legends.
Chairman Traci Hrudka stated, "We are very excited to have Anthony on board and we truly want to thank Steve Cole for his service. Steve was pivotal in helping in our marketing and public relations campaigns and made huge contributions to the growth of the Foundation. We look forward to seeing that work continue with Anthony's help."
Kirlew will be attending the NHRA Arizona Nationals in Phoenix on February 24th & 25th at Wild Horse Pass Motorsports Park and will be providing free Quarter Mile Foundation decals for any interested racers, fans, or supporters.
Remaining Quarter Mile Foundation Board Members include drag racing icons Don "Big Daddy" Garlits, Harry "Hand Grenade" Hibler, and Don Ewald, among others. To learn more about the Quarter Mile Foundation, please visit: http://quartermilefoundation.org/
About The Quarter Mile Foundation
The Quarter Mile Foundation is a 501(c) (3) not-for-profit foundation, which is producing PROJECT 1320, a for-television documentary film series about the history of drag racing and the parallel growth of the performance automotive aftermarket.
###