Special Auction – Funny Car Driver Alexis DeJoria's "PATRON XO CAFÉ INCENDIO" Fire Suit
The Quarter Mile Foundation's Project 1320 is happy to welcome "Big Daddy" Don Garlits to the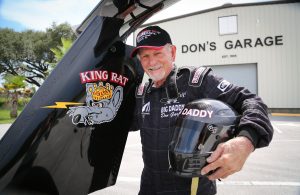 2019 SEMA Show being held November 5th through the 8th at the Las Vegas Convention Center, Las Vegas, Nevada. Considered as the "father" of the modern day rear engine dragster, "Big" (as he is known to industry insiders,) has a total of 144 national event wins to his credit and holds seventeen World Championship titles in NHRA/IHRA/AHRA Top Fuel Eliminator competition. Garlits will be signing copies of his new book, "DON GARLITS AND HIS CARS," at the Quarter Mile Foundation booth # 11000 in the Grand Lobby. Times will be announced at the QMF booth. A visual blast down Top Fuel drag racing's memory lane, Garlits' new book features his greatest moments with photos taken by some of the sport's most accomplished photographers; a must have for any serious drag racing enthusiast.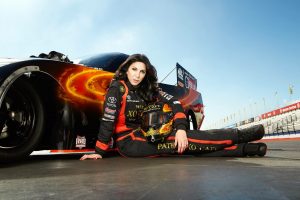 DRAG RACING MEMORABILIA COLLECTOR ALERT! Our expressed gratitude to funny car racer Alexis DeJoria for donating one of her fire suits to the Quarter Mile Foundation which will be on display at the booth. Autographed by Alexis is the black with orange accents, the words "PATRON XO CAFÉ INCENDIO" (Alexis' sponsor) are stitched across front, back and pant legs along with Kalitta Racing, DHL, Toyota, Feather Lite, Red Line Oil, Stand 21, Summit and MAC Tools patches on the arms and chest.
Quarter Mile Foundation will be auctioning off the suit (reserve is set at $3,000.00) during SEMA Show hours with proceeds going to the Quarter Mile Foundation via silent auction, or text message to Traci Hrudka @ (216) 409-1486. Winning bid to be announced via phone call or text on Friday November 8th at 4:00 pm. Bids texted will be kept informed of bids placed via text. See Quarter Mile foundation's booth or text Traci for more details. For those that wish to bid by text, bids will be disqualified if not raised in increments of $100 or no name and contact information is provided.
The Quarter Mile Foundation is also proud to display "RAIDER SOUL," a 2019 KIA SOUL, painted by famed custom painter John Pugh to commemorate the Oakland Raiders Football Team which will be calling Las Vegas home as of 2020. John Pugh's customers range from John Force, Darrell Gwynn, KC Spurlock, Candies & Hughes, Dale Pulde and so many more. John currently works with Gunslinger Custom Paint out of Golden Colorado, owners Dave Call and Jeff Theisen.
The Quarter Mile Foundation is happy to welcome back retired Stock, Super Stock and Pro Stock drag racer, American Racing Legends Ralph Goodall to the Quarter Mile Foundation booth. Goodall holds 50 national event wins (combined classes,) in NHRA/IHRA/AHRA competition running multiple classes with as many as three cars. In 1982 Goodall teamed up with the late "Dyno Don" Nicholson to field a one year only Oldsmobile Calais in NHRA Pro Stock. In 1986 Woodall retired from drag racing to focus on building new business which led to significant developments and patented inventions for motorsports and the automotive industry.
There's a lot going on this year at the Quarter Mile Foundation/Project 1320 booth #11000 Grand Lobby so don't miss it!
ABOUT QUARTER MILE FOUNDATION
Quarter Mile Foundation's mission is to collect and archive the history of the sport of drag racing, and related aspects of the high performance aftermarket, focusing upon capturing the first person oral histories of the pioneers and legends. The goal is to preserve interviews, in addition to photos, movies and video tape for present and future generations to see and experience how drag racing and the performance aftermarket impacted the North American automotive market.  To build a permanent historical record of drag racing – its people, cars, events and industry, a record that transforms our past into present, and present into future giving context to ideas and anchorage to experience. For more information, visit: http://quartermilefoundation.org