The current issue of the e-magazine No Limits at www.wildaboutcars.com has a top of the page story highlighting the Foundation and our mission to capture the history of drag racing and the performance aftermarket, utilizing the recollections of the pioneers and legends of the sport and the industry.
You can read about it by clicking this link: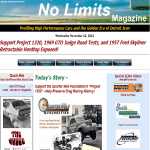 http://wildaboutcarsonline.com/members/NL_Blog/NL_Blog_All_2013-11-13_All_1.html
The Wild About Cars site focuses upon the historic Detroit cars and automotive history, with motorsports playing a very prominent role.  Wild About Cars has been a staunch supporter of the Foundation from the early days, and if you are into automotive history, you owe it to yourself to look around the site and be transported back to the Golden Days of Detroit.