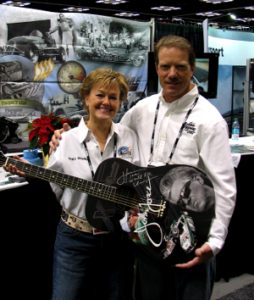 B.J. Vangsness, the co-owner of the famed Byron Dragway (Byron, Ill.), had his Christmas arrive a little early this year. At shortly after 3 PM Saturday (December 13), B.J. got a phone call from the Quarter Mile Foundation, telling him his ticket #260583 was the winner of the John Force guitar raffle.
Vangsness, who had purchased the winning ticket an hour earlier said, "I am totally surprised!! I was donating to a great cause to gather the memories about the history of the sport; however, winning was not really in the plan! But I sure am grateful, and this guitar is going to be placed in a very prominent location in our track offices!"
The acoustic guitar was given a John Force themed wrap by BSG Wraps, Fort Worth, Tex. (www.bsgwraps.com), which did the two earlier wrapped guitars the Foundation raffled at the 2014 SEMA Show. As with the SEMA guitars, the Force guitar generated tremendous interest from the exhibitors and attendees. Quarter Mile Foundation Chairman, Traci Hrudka stated, "We truly appreciated the interest in the guitar, and the participation in the raffles at Indy and Las Vegas.
"Skip Madara at BSG Wraps did a tremendous job with the graphics, and created three excellent raffle items, and we appreciate his efforts and support. We intend to offer these drag racing-themed guitars at selected events in 2015."