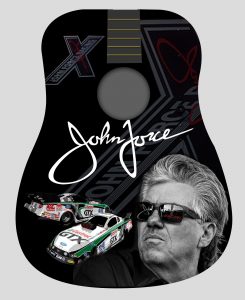 The Quarter Mile Foundation will be raffling a John Force-themed acoustic guitar — VERY Limited Edition (1 of 1) at its booth at the Performance Racing Industry (PRI) Trade Show, December 11 – 13. The Quarter Mile Foundation is located in the Yellow Hall in Booth 2867, very near the walkway to the Crowne Plaza Hotel, and Union Station.
Tickets are priced at one dollar each, and will be available at the booth for show attendees and exhibitors during the show hours – 9:00 AM to 5:00 PM (Thursday and Friday) and 9:00 AM to 3:00 PM Saturday. The winning ticket will be drawn at 3:00 PM at the booth on Saturday afternoon. The winner DOES NOT have to be present at the drawing.
The Foundation and BSG Wraps of Fort Worth, Tex. (www.bsgwraps.com) again have collaborated to develop the John Force-themed wrap for this guitar, following the highly popular reception generated by the guitars created for the SEMA Show.
For those not attending and would like to enter, click the donate button on the website, enter the dollar amount of tickets you would like to purchase at $1.00/ticket, and make a note it is for the PRI SHOW Guitar Raffle. You only have until Tuesday night (12/10, 11:59 PM Eastern) to enter.
The PRI Trade Show is held at the Indiana Convention Center in downtown Indianapolis, Ind., and is one of the premier motorsports trade shows in the world, occupying the entire 566,000 square foot building.
(Note: The PRI Trade Show is not open to the public, and is open only to those directly involved with the motorsports industry.)