In celebration of our 10-year anniversary,The Quarter Mile Foundation Presents: Bench Racing with the Legends Series.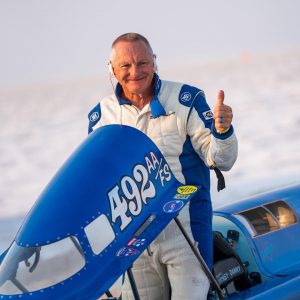 Win a Once in a lifetime opportunity to spend the day with the incredible Danny Thompson at his facility in Colorado!
This is the first in a series of opportunities to interview some of racing's greatest legends.
Step by step, Danny Thompson has maintained and expanded his family's celebrated history in motor sports. Son of the late great racer and innovator Mickey Thompson, he began his career in Motocross, winning his first eighteen consecutive events, before switching to cars and progressing through the Formula Atlantic Series, Supervees, and CRA Sprint Cars. He won the opening night of the Mickey Thompson Off-Road Grand Prix and continued performing as a Chevrolet factory driver for the next seven seasons.
After a decade of retirement, Danny came to Bonneville for the first time in 1992 and subsequently became a record holder in multiple classes. He gained further notoriety in 2007 for building and piloting the world's fastest Ford Mustang in partnership with Hajek Racing.
His legendary father Mickey Thompson gained international fame in 1960, when he became the first American to break the 400-mph barrier, driving his Challenger 1 to a one-way top speed of 406.60 mph at the Bonneville Salt Flats.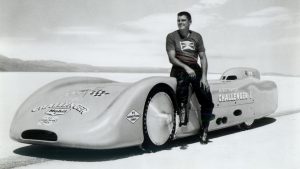 In 2018, at the age of 69, Danny continued his father's quest for record breaking, and set a land speed record for piston-powered, wheel-driven cars at the Bonneville Salt Flats. Danny drove his father's 50-year-old Challenger II to a pass at 446.605 mph.
He followed up the next morning by going in the opposite direction at 450.909 mph, for an average of 448.757 mph.
Three winners will be chosen to spend a day with Danny:
A filmed interview with Danny – Yes, you get to ask him the questions!
Take a tour of Danny's garage.
Enjoy lunch with Danny.
Photo opportunity
DVD keepsake of your day with Danny – Your DVD "Day with Danny" will be sent following post-production of the event.
Two night stay at The Ridgeway Lodge in Ridgeway, CO.
Click on the link to read and enter: