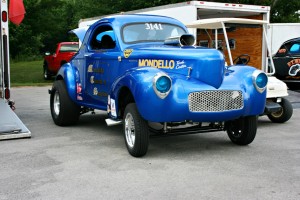 The NHRA/Holley Hot Rod Reunion (June 14-16) at Bowling Green, Kentucky's Beech Bend Raceway provided an excellent location to secure interviews for the Quarter Mile Foundation's "PROJECT 1320" documentary which chronicles the early days of drag racing, and the performance aftermarket.
A total of 16 new interviews were conducted at the track during the three day event celebrating the legendary stars and the cars which made them famous.
The interviewees were:
Paul "Hutch" Hutchins
Ron Leek
Randy Walls
Charles "Boogie" Scott
Gloria Gibbs
Tom Hoover
Bennie Osborne
Bob Bilbow & Bill Klein
Frank Hawley
Danny Porche
Larry Dixon Sr.
Nancy Leonello (with Barb Hamilton)
Dean Weasner
Terry Lorge
Following these interviews, the Foundation now has secured 163 interviews for the PROJECT 1320 documentary film series.
The next event where the Foundation will be gathering interviews is the 11th Annual York Reunion & Nostalgia Nationals, July 13th & 14th in York, Pa. Interviews with legends such as Arlen "Akron" Vanke, Arnie "The Farmer" Beswick, Judy "Miss Mighty Mopar" Lilly,Francis Butler and more will be conducted.  The Foundation will also film during the NHRA-MAC Tools U.S. Nationals over the Labor Day weekend.